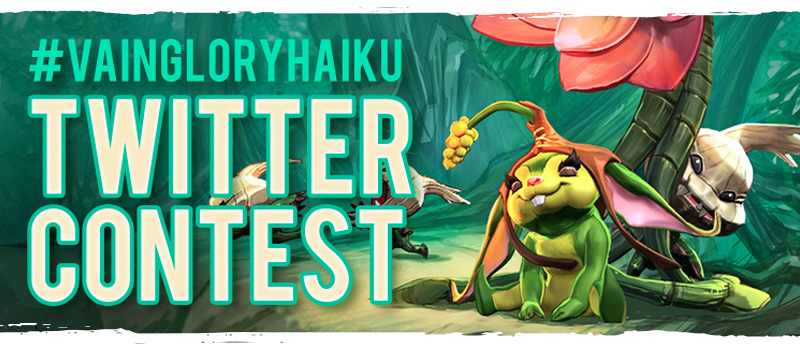 To celebrate Spring and our amazing Vainglory community, I thought it would be fun to do a little contest giveaway. Now, maybe it's the warmth of the afternoon sun or just the chirping of birds in the trees; but with spring break approaching, there seems to be poetry in the air.
So I figured, sure. Why not? Let's try it!
Introducing the Vainglory Haiku Twitter Contest

Your Chance to Win a $30 Amazon Gift Card!
March, 11th, 2015 until March 15th, 2015
To Enter:
Tweet a Vainglory related Haiku
Include the hashtag #vaingloryhaiku and a link to this page: bit.ly/vainglory-haiku
What's a Haiku?
Haikus are a poem that contain exactly 17 syllables
These syllables are arranged in three lines of 5-7-5
Sometimes it can be difficult to count the syllables in a word. Use this site to help.
#VaingloryHaiku Entry Example:
Auto-lock Ardan Six times you died to turrets Now you AFK #vaingloryHaiku http://t.co/teszExwG0e

— VainShame (@VainShame) March 12, 2015
How to Win:
Valid entries will be judged for relevance, humor, meta, and wit.
The Winner will be announced through the @vainshame twitter account on Monday, March 16th, 2015 and contacted by DM.
Rules:
Contest runs from March, 11th, 2015 until March 15th, 2015 at midnight PST.
Enter as many poems as you like, but only proper haikus will be judged.
You must include the #vaingloryhaiku hashtag and provided link to be officially entered.
All Haikus must be related to the game Vainglory by Super Evil Mega Corp.
Winner must provide a valid email address to receive their prize.