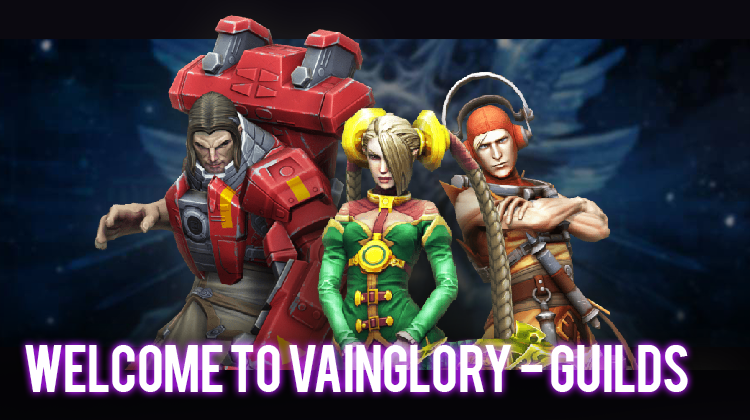 New players or returning, skilled or casual, welcome to Vainshame.com! This article is the first in a series dedicated to helping new players plug in to the vast Vainglory community or guiding veteran players who are looking to take that next step. The specific topic of interest in this article are guilds, why you should consider one, when you should remain independent, and why you should make your choice wisely. I hope it is useful information, and I hope that it is the first step into a greater enjoyment of everything Vainglory has to offer.
Vainshame itself has remained guild-independent in order to better serve the community, and will continue to remain independent until otherwise decided. However I have spent a long time watching guilds and learning about them. I've remained unbiased, impartial, and freelance since my first day in the Vainglory community, but now it's time to share what I've learned and hopefully help you understand the vast guildscape that exists within the Vainglory community.
When I stepped out of Vainglory for the summer, things looked a lot different than they do now. The constantly changing gamescape lends to a majority of the things that I feel are different, however there are things in the community that seem to have changed as well. One of the things that I've noticed is how different the guild presence is in the wake of Vainglory Worlds and with news of the International Premier League. Things all of a sudden got serious, and fast. After all, if there's a chance to go pro, you should take it right?
However the rise in competition has also taken away from the very element that made guilds such a defining feature at the beginning of Vainglory's community life: The fact that guilds are supposed to be a community, essentially a family when done right. People who had been with their guild for almost a year suddenly cut ties to pursue another "more competitive" group. New guilds rose, old guilds fell apart or faded, but things definitely changed. There's an example to be made here of why you should choose your guild (and recruit your guildmates) carefully.
Black with White Stripes or White with Black Stripes?
The singlehanded most important thing you can do when choosing a guild is to do your research, and that's where we're going to start our discussion. Researching guild options will help you find a community that you fit into well and that has similar goals and interests in mind. Ideally you should fit into a community like a puzzle piece, filling some crucial role and adding to the overall picture seamlessly. Don't form your opinion about what guild life is like within a certain guild by who you know is a part of that guild and what you see on social media, as both can be misleading to what actually goes on in guild halls behind closed doors.
Competitive or Casual?
Some guilds offer both, some competitive and some casual. But none are the same in terms of the caliber of player that they're looking for. Everyone has their standards, and it's important to know those standards before you pick a guild, especially if you're looking to go competitive in a guild that has both options. You may soon find yourself stuck on a casual side of a guild you thought you could make it in. And furthermore, sometimes it's better to start with a smaller guild and forge a new competitive threat than it is to join a big name guild and be on the straggling end of the competition. Players who have played together again and again have a better shot at being one unit in competitive matches, whereas jumping into a new guild with new people can have detrimental effects on your gameplay and interaction with other players.
What Have I Done?
Know the commitment. Ask about required meetings, events, or practices and commit to them or don't. But you are responsible for knowing what you are committing to when you join a guild, that is not the guild leader's prerogative to tell you. On the flip side, it is not your responsibility to be accountable for things with which you do not agree that arise after the fact. Healthy guild community is defined by democracy, and nothing should be forced on you blindly. And finally:
Make Your Choice…
…and stick with it. Unless you've got the skills to command respect in the Halcyon Fold, constantly guild hopping is a warning sign for guild leaders that you're going to give them the boot in due time as well. And even then, most players are wary of someone who can't stay as a part of one team for an extended period of time. Remember that the choice in guild you make not only defines you as a player, but where you will go and who will respect you in the future. And don't forget, remaining independent is an option! There are plenty of good players who have chosen to remain freelance who are willing to play casually. Seek them out on Twitter or on the Forums!
I'll reiterate it again, the best thing you can do when choosing a guild is to do your research. Everything I've suggested here stems from that suggestion. There is no rush to join a guild, and as a prospective guild member you have every right in the world to ask questions and get answers. Make the most of that.
Of course, I wouldn't be helping if I didn't provide a list of guilds, as well as their programs here. They are in no particular order, and the only requirements I placed on this list were an active presence in the game and active social media account. There are countless others, but they're a little hard to find.
Guild List
(NA) Gankstars: Competitive and Casual
http://www.gankstars.org/
(NA) Vertigo: Competitive and Casual
http://www.vertigovg.com/
(NA) Ardent: Competitive and Casual
http://ardentgaming.org/
(NA) Nemesis: Competitive
http://nemesisgaming.org/
(NA) Black Magic: Casual
http://blackmagicguild.wix.com/vainglory
(NA) Lucky 13: Competitive
http://www.vaingloryworld.com/lucky-13/
(EU) R3D Gamers: Competitive and Casual
http://r3dgaming.net/
(EU) NKN Gamers: Competitive
(NA) Halcyon Hammers: Competitive and Casual
http://www.halcyonhammers.com/
(NA) Predators: Competitive
http://www.vgpredators.com/
(NA) Shattered: Competitive and Casual
http://www.teamshatter.weebly.com/
(NA) Team Wicked: Competitive and Casual
http://teamwicked.shivtr.com/
(SEA) Infamous: Competitive
http://www.vaingloryworld.com/infamous/
(NA) TAS: Competitive
http://teamtas.weebly.com/
(NA) Team Smurf: Competitive and Casual
https://www.reddit.com/r/teamsmurfvainglory
(SEA/EA) Team Phobia: Competitive and Casual
http://phobiagaming.org/
(NA) Team Synergy: Competitive and Casual
http://www.vaingloryworld.com/team-synergy/
If I missed any, feel free to call me out, and if any information is incorrect let me know and I'll update it ASAP! I hope this has been informative, and I wish you the best in finding your place within the Vainglory community!
---
Skipper is a Vainglorius Skaarf main. A former League Veteran, he's been playing and streaming Vainglory since December '14. Find him on Twitter @VGskipper587.